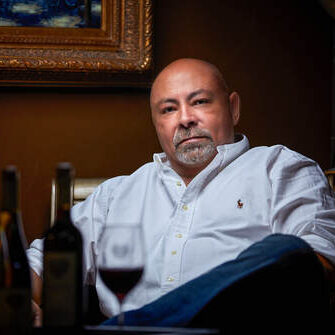 Phil Long
Founder, Longevity Wines

[Winemaker]
Winemaker Phil Long is the president of the Association of African American Vintners (AAAV) and the founder of Longevity Wines, a brand based on his love affair with his wife, Debra. They were an interracial couple focused on offering inclusive wine experiences until Debra lost her battle with pancreatic cancer in 2019. Phil personally designed the delicate heart logo on their bottles, then had it tattooed on his forearm before she died so that she will always be with him.
Starting with the first Syrah he made with Debra in their garage in 2002, Phil's approach to winemaking has been to continually challenge himself to make the best wines possible. He is passing that diligence on to his son, Phil Long, Jr., who now serves as Longevity's assistant winemaker. For their wide array of Longevity Vintner Select (black label) wines, Phil and his son start with locally sourced grapes from Livermore Valley. Their production and cellaring practices are always evolving and their wines have earned many accolades.
Phil partnered with Bronco Wine Company in 2019 to achieve the volume required for national distribution. He now makes his Longevity Classic (white label) wines using Franzia family fruit at Bronco's state-of-the-art, zero-waste facility in Ceres, California. These approachable wines are available in thousands of stores across the country.
Like many people of color in the wine industry today, Phil had no idea wine could be a career when he was younger. He was born in Washington, DC, grew up in Southern California and graduated from Cal Poly Pomona with a degree in architecture. Phil used his artistic skill to build a successful career in packaging and store display design before becoming a winemaker. He was named president of AAAV in January 2020 and is devoted to elevating awareness of African Americans in the wine industry and paving paths to wine careers for all minorities.
All Sessions by Phil Long