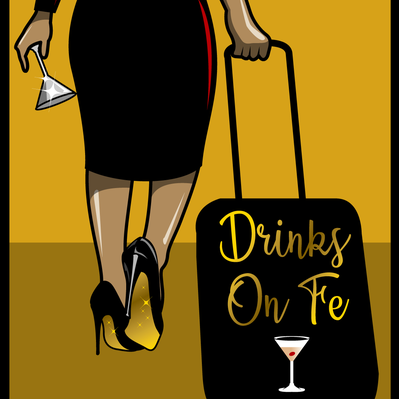 Drinks on Fe
Drinks on Fe (Tea Vendor)

[Tea Vendor]
Felicia Wallace was born and raised on the South Side of Chicago. Youngest of nine siblings; mother of one son; and the Founder & Owner of Drinks on Fe's Fruit Honey Teas. Felicia recognizes the importance of education. She is honored and grateful to be her family's first college graduate. She received her Bachelor of Arts from Western Illinois University and earned a Master of Arts in Public Administration from Governors State University.
Felicia's passion for serving people not only led her to a professional career as a Public Servant for The Social Security Administration, but it is also the tool that catapulted her into entrepreneurship in ways she could not have imagined. Through hard work and determination, A Minority/Female Business "Drinks on Fe LLC" (affectionately refers to as Drinks on Fe's Fruit Honey Teas) was birthed out of a genius creation while participating in a food/drink festival for her church's anniversary. The tea was such a great success, and in high demand, inevitably she couldn't produce it fast enough for the growing clientele. The idea became a reality and is now a thriving success! Fe is convinced that God's plan and purpose is to use Drinks on Fe's Fruit Honey Teas as a vehicle for generational wealth! Drinks on Fe's Fruit Honey Teas are produced in small batches & handcrafted with love, fresh fruit, and honey, to deliver an authentic, refreshing taste that stands out from all other brands.
For her brand, Fresh Fruit and Honey is non-negotiable! Fe believes that there's nothing better than the natural taste and properties of honey, and the delicious flavor of fresh fruit. Therefore, she uses honey as an alternative sweetener while most beverage companies use artificial sweeteners and flavoring. Fresh fruit is a must to reduce the higher sugar content that simple syrups often contain. Fe loves the taste of sweet teas so much, it was the obvious choice for her business endeavor.
Currently, Drinks on Fe Fruit Honey Teas is available in 3 flavors: Peach Honey, Pineapple Honey, and Mango Honey. All of these teas are delicious alone, however, for additional refreshment, "spirits" can be added for adult enjoyment. Fe's Fruit Honey Teas have been served to the masses and requested by many throughout the Chicagoland area and surrounding states. Drinks on Fe's Fruit Honey Tea's has opened doors for Fe that allow her to give back to the community, serve the homeless, and to support various back-to-school events.
She is determined to "pay it forward". Additionally, Drinks on Fe LLC was the recipient of the "One Chicago Business Hall Of Fame" award for outstanding performance in community service and business leadership. Drinks on Fe LLC were sponsored by Uchicago to provide teas to over 500 members of the community; Drinks on Fe LLC Served at corporate events such as PepsiCo; Drinks on Fe LLC Serviced Radio host/personalities AC Green and Sundance and Grammy award nominee DJ Terry Hunter. Drinks on Fe LLC is flourishing and growing and is committed to employing other single mothers, helping the less fortunate, and being a resource for other entrepreneurs. God has amazing things in store for Drinks on Fe LLC! He continuously exceeds our expectations. Keep your eyes open and discover what's next for Felicia affectionately known as "Ms.Honey" of Drinks on Fe.
All Sessions by Drinks on Fe