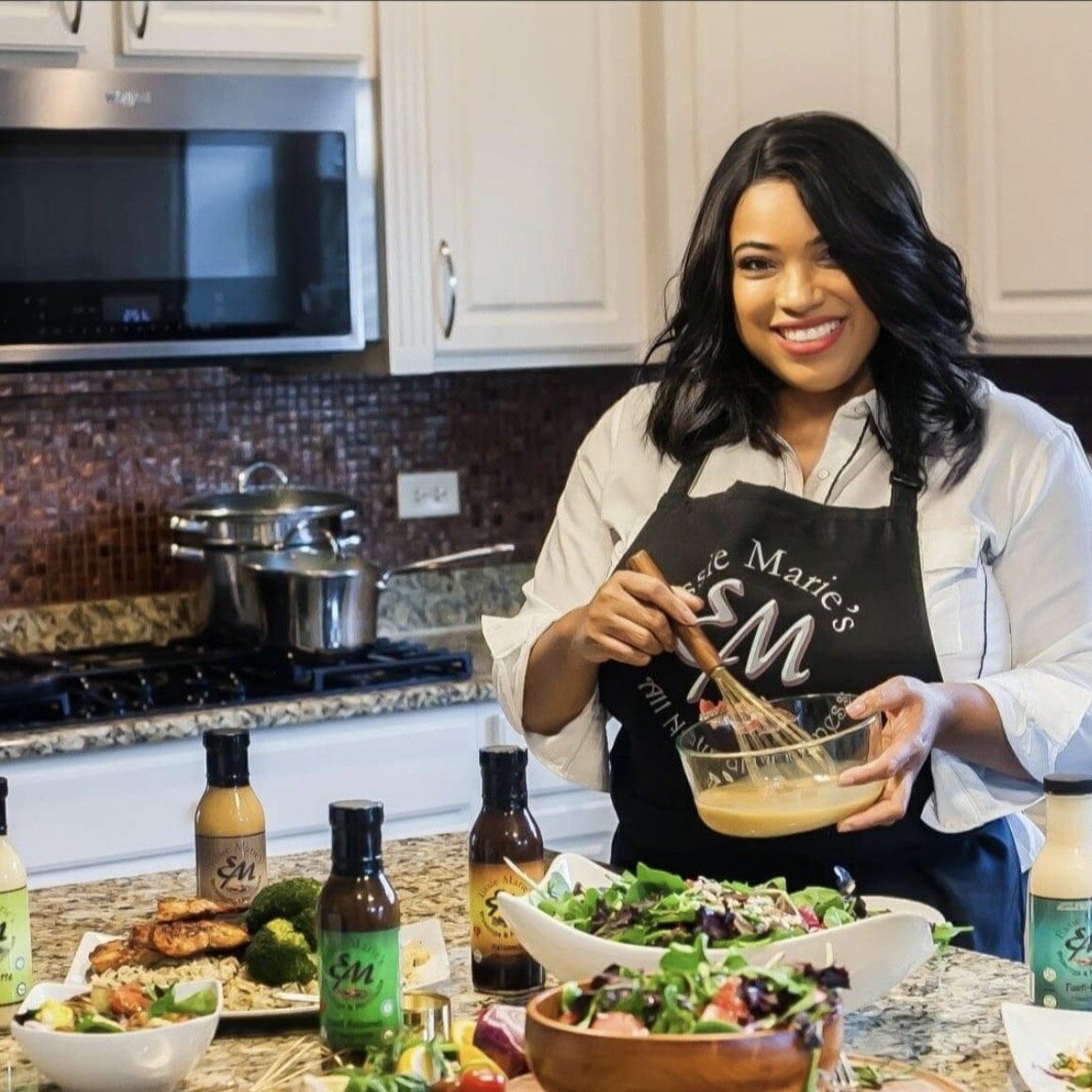 Chef Essie Marie
Co-Founder/CEO, Essie Marie

[CEO]
Weekend mornings at the Clark's residence on the far south side of Chicago started with gatherings and traditions of homemade meals, prepared by Itiona's mother. The large and loving family congregated regularly and on special occasions. Itiona learned to cook from scratch, keeping a watchful eye on her mother. These special recipes were passed down to Itiona from her mom and began to encourage her internal entrepreneurial spirit. Itiona continued the tradition by making them her own as an adult for her two children, friends and family.

Itiona tried her hand at multiple business endeavors, driven by the spirit of her mom. A self-described Innovator and woman of faith, who is committed to helping others, Itiona soon began to manifest her dreams into a reality. After preparing her inherited recipes for events, Itiona began making bottles of salad dressings with an added twist of flavor, first out of her home, and then a commercial kitchen. Her dressing soon became the talk of the neighborhood. It goes great on all greens and is a perfect marinade for meats, fish, poultry and vegetables. It's rich and creamy consistency and light texture brought compliments from all who tasted it and standing ovations and requests for more.

The bottles began to sell out to customers and local farmer markets. The first break of Essie Marie came at a local south Chicago store, then Whole Foods. The first month, the brand was the #1 selling salad dressing at the multinational supermarket chain. The numbers matched the most dressing ever sold in any store. Whole Foods decided to expand the brand to more stores in Illinois.

Eventually, times grew a little difficult for the Essie Marie brand. After traveling to Milwaukee, Wisconsin, presenting the salad dressings to Mariano's, Itiona received a hard no. That didn't stop her. She persisted and called until they agreed to let her into one store. Essie Marie salad dressings began disappearing from the shelves, so Mariano's expanded the product to other stores.

Since its inception, business has more than doubled each year. Today, Essie Marie's is sold in more than 20 stores locally and has become a household name. Voted Best Salad Dressing by Kroger Mariano's, and the NYSE Entrepreneur recipient for Chicago, Itiona Scott is determined to leave a legacy for her children and not just a family recipe. Woman Owned and Certified by the Women's Business Enterprise National Council, WBENC, Itiona is on track to becoming a national minority brand. The only African American salad dressing and marinade in Whole Foods Market, Mariano's and Pete's Fresh Market stores, Essie Marie is blazing the trails as one of the most respected food companies in America.

Essie Marie prides itself on being the only African American woman owned heart-healthy dressing and marinade brand in it's category. Itiona plans to take Essie Marie products national, to help as many people as possible fight against the silent killer, heart disease. This family recipe salad dressing is tasty, healthy and the perfect addition to any family gathering.
All Sessions by Chef Essie Marie