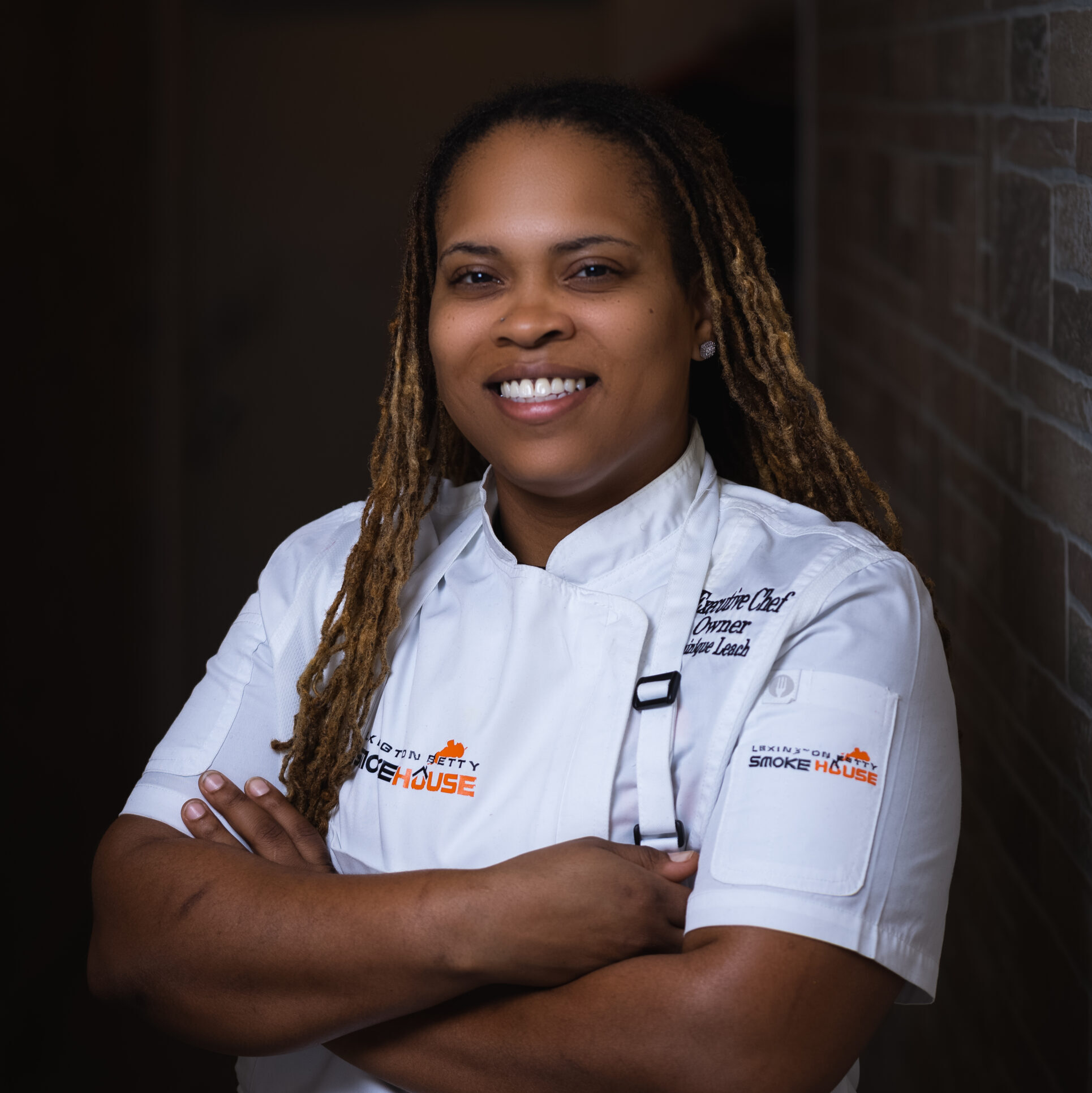 Chef Dominique Leach
Executive Chef & Owner, Lexington Betty Smokehouse

Executive Chef
Raised In Chicago, Dominique spent most of her childhood playing basketball and baking peanut butter cookies. She comes from a large family that loves to cook big meals and spend time together.
Leach Attended the Illinois Institute Of Art Chicago and attained her associates degree in Culinary Arts in 2006. That October Leach joined the team at The Renaissance Hotel Chicago. She began as the grill line cook and worked her way up to become the kitchen supervisor in 2007.
In December 2008 Leach joined Bon Apetites banquet team at The Art Institute Museum, helmed by a young Chef from Florida Brian Williams. Leach started as a prep cook which afforded her the opportunity to learn about food and culture from different regions. There she worked with Award Winning Author and Chef Raghavan Iyer who taught her all about Indian culture and cuisine.
Over the next years Leach's growing knowledge of food gained her the respect of her peers and managers. She eventually out grew her position and was promoted to Sous Chef. After her promotion she worked with Spiaggia Chef/partner Tony Mantuano who had just opened a new restaurant in the museum. Fortunately the banquet team handled all of the restaurants large events so Leach worked side by side with Mantuano. Leach's skills around the kitchen were so apparent he invited her to New York to assist with WINE BAR FOOD pop up restaurant at the U.S. Open Tennis Championship. While there, Leach was offered a role in banquets at Spiaggia. In 2011 Leach was hired as Sous Chef at a Chicago off premise catering company. Years later she left to receive her first Executive Chef Job at Zelda's Kosher Catering. After establishing the entire catering concept at Zeldas, Leach decided she wanted to use all of her knowledge gained throughout her career to start her own catering company. in search of less responsibility and more time to develop her ideas Leach left Zeldas to become a line cook at the Four Seasons Hotel. She vowed that the Four Seasons would be her last job.
In 2016, along with her wife Tanisha, Leach founded her very own catering company "Cater To You Events & Drop Offs". Her ambition and consistency helped her to achieve her goal. Leach has since added a Food truck to her repertoire. Lexington Betty Smoke House, Named after her Granny Betty King from Lexington Mississippi! After being invited to the WGN studios to do a live cooking demo, Lexington Betty's smoked meats were in high demand. In September of 2019 Leach opened her first restaurant in Chicago's Galewood neighborhood. Just three months later she announced a second location to open in February at the One Eleven Food Hall in Chicago's historic Pullman neighborhood, and then a third location on the west side of Chicago in the city's medical district. Despite All of the growth the company had seen, Leach still found time to become a reality TV star on the Food Network and Food Network CA.
All Sessions by Chef Dominique Leach